Morphettville Parks: Morphettville
2nd October 2021
1400m

Fine

0.5mm last 24hrs, 3.5mm last 7 days

True

Good 4
Winning Post-1500m: Low traffic and low-speed area but the inside two lanes are a little fresher, but beyond that is only very minimal wear so won't be an issue.
1500m-800m (back straight): A little bit inconsistent across the lanes but hard to pick the best ground. Slightly more fill in lane 3 from previous rail positions but it won't be consequential. Still a good amount of give in the surface and I thought it walked deep in the '4' range.
1300m-800m (chute): It doesn't walk like quick ground in this section. Sits in the '4' range but slightly firmer than the back straight. There's a thicker cover of grass in lane 2 along with some markings from the previous rail position which might mean slightly slower ground.
800m-400m: Previous rail position means there's three-and-a-half lanes of fresh ground towards the fence. Noticeably more fill beyond that which will be a disadvantage to horses peeling into the four-wide line. Still enough give in it to think it will be a genuine '4' and a fair way off an upgrade even with fine weather.
400m-Winning Post: The inside three lanes walks cleaner and should be an advantage to horses either up on speed or cornering close to the fence. Lanes 4 and 5 have heavier marking and sand fill but beyond that it improves slightly.
Verdict: We haven't been in the True position since July and the last two meetings have been with the rail out 7m (inside was inferior ground) for the business end of the racing. Not a surprise to see some fresher ground towards the fence from the 800m mark. I'd imagine looping wide from the 600m will be a hard task, rather be backing horses closer to the fence and ideally on-pace. Perfect amount of give in the track at time of walking, expecting it to race in the Good 4 range.
Track walked on Thursday 30 September, 2pm ACST.
| | |
| --- | --- |
| Rail details | True |
| Track type | Turf |
| Penetrometer | 5.28 |
| Nominations close | Mon 27 Sep 21 12:00PM ACST |
| Weights last published | Tue 28 Sep 21 12:00AM ACST |
| Acceptances must be declared before | Wed 29 Sep 21 9:00AM ACST |
| Riders must be declared before | Wed 29 Sep 21 12:00PM ACST |
Watch videos
View line photo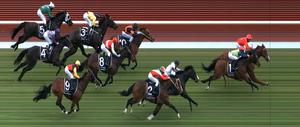 7. The Junction Handicap
1400m, 4:07pm
Total prize pool: $54,750
1st: $29,100, 2nd: $9,675, 3rd: $4,425, 4th: $2,850, 5th: $2,325
BenchMark 86 (BM86), Handicap (Hcp), Rating Based (RTG), Apprentices can claim.
Field Limit: 14 + 4 EM
Fin
Name
Barrier
Weight
Margin
Starting price
Time

More info

1

J: Jeffrey Maund T: John Hickmott & Carrina Riggs
10
54.0
0.0
$3.60
01:24.470

Jockey

Trainer

Barrier

10

Weight

54.0

Starting price

-

Age

6YO

Colour

chestnut

Gender

Gelding

Status

Active

J WT

51.0kg

Ballot Seq

11

Prize

$143,675

Racing colours

Red, Pink Spots

Owners

G Bowyer

Career

18:4-2-4

1st up

4:1-0-2

2nd up

3:2-0-0

Track

5:2-1-0

Dist

3:2-0-0

Trk/Dst

2:2-0-0

Firm

0:0-0-0

Good

11:1-1-2

Soft

6:2-1-2

Heavy

1:1-0-0

Recent form

Video

Pos
Venue
Date
Dist
Cond
Race
Prize
Jockey
WT
Bar
RTG
Result
5th / 6
MRPK
25/09/2021
1550
Good
BM82
2325
Jeffrey Maund
54
1
70

1 Sign Of Ussuri
2 France's Boy

2nd / 8
MRPK
04/09/2021
1300
Soft
BM82
9675
Jeffrey Maund
54
6
69

1 Ecumenical
3 Magna Bella

1st / 10
MRPK
28/08/2021
1400
Soft
CG&E BM68
23600
Jeffrey Maund
59
6
65

2 Hinchpin
3 Rock Harbour

3rd / 8
MRPK
30/07/2021
1250
Soft
BM68
3625
Jeffrey Maund
59
1
65
4th / 7
GAWL
23/01/2021
1712
Good
BM72
2725
Sairyn Fawke
58
1
65

2

J: Ms Jessica Eaton T: Michael Hickmott
1
62.0
0.2
$10
01:24.500

Jockey

Trainer

Barrier

1

Weight

62.0

Starting price

-

Age

5YO

Colour

bay

Gender

Gelding

Status

Active

J WT

50.0kg

Ballot Seq

1

Prize

$200,021

Racing colours

Lime Green, Navy Blue Sleeves, Hot Pink Cap

Owners

J A Barnao, T G Heptinstall, C V Barnao, D R Platt, T M Pivac, Mrs N Cruckshank, Ms H M Herd, M W Cummings & A Campbell

Career

15:6-0-4

1st up

3:0-0-1

2nd up

3:2-0-1

Track

2:1-0-0

Dist

3:1-0-1

Trk/Dst

1:1-0-0

Firm

0:0-0-0

Good

11:4-0-2

Soft

4:2-0-2

Heavy

0:0-0-0

Recent form

Video

Pos
Venue
Date
Dist
Cond
Race
Prize
Jockey
WT
Bar
RTG
Result
7th / 8
MUBR
27/08/2021
1000
Soft
OPEN-TRL

-

Todd Pannell

-

-

-

1st / 15
MORP
15/05/2021
1600
Soft
R A LEE
82970
Todd Pannell
55
2
79

2 Dr Drill (GB)
3 Vassilator (NZ)

3rd / 10
MORP
01/05/2021
1600
Good
BM82
4225
Ms Jessica Eaton
59
9
79

1 Ace of Clubs
2 France's Boy

3rd / 10
MORP
08/03/2021
1600
Good
C S HAYES
8225
Ms Jessica Eaton
54
9
78

1 Ironclad (GB)
2 Ritratto

1st / 10
MORP
20/02/2021
1800
Good
BM78
27725
Ms Jessica Eaton
58
10
74

3

J: Callan Murray T: Michael Hickmott
5
56.0
1.4
$11
01:24.690

Jockey

Trainer

Barrier

5

Weight

56.0

Starting price

-

Age

5YO

Colour

brown or black

Gender

Gelding

Status

Active

J WT

52.0kg

Ballot Seq

7

Prize

$129,961

Racing colours

White, Navy Blue Star, Armbands And Cap

Owners

Michael Hickmott Bloodstock,V J Oconnor, Carty Racing, FBW Racing(Mgr; J Pratt), J Ceppi, C Hutchison, D P Juratowitch, M A Mitchell, A L Beaton, A Z Quinn, J F Neeson, R G Devantier, M Tsang, Y W Cheung, Destination Unknown No 1, Destination Unknown No 2 & Mayford Park 4

Breeding info

DAM: Danehill Destiny
SIRE: Mukhadram

Career

13:4-3-2

1st up

3:0-0-1

2nd up

2:1-0-0

Track

4:1-0-1

Dist

3:1-1-0

Trk/Dst

0:0-0-0

Firm

0:0-0-0

Good

10:3-2-2

Soft

2:1-0-0

Heavy

0:0-0-0

Recent form

Video

Pos
Venue
Date
Dist
Cond
Race
Prize
Jockey
WT
Bar
RTG
Result
6th / 7
MRPK
25/09/2021
1250
Good
BM86
1275
Callan Murray
57
7
79

1 Extra Time
2 Noir de Rue

5th / 9
MUBR
27/08/2021
1000
Soft
OPEN-TRL

-

Ms Jessica Eaton

-

-

-

1 Lofty Tycoon
2 Debbonaire Boy

3rd / 8
MORP
17/04/2021
1600
Good
BM82
4225
Ms Jessica Eaton
59
2
79

1 Surreal Image
2 Shop Til I Drop (NZ)

1st / 7
MRPK
20/03/2021
1550
Good
BM76
27725
Ms Jessica Eaton
58
4
75

2 Exalted Traveller
3 Territory Titan

5th / 9
MORP
06/02/2021
2040
Soft
BIRTHDAY
4225
Ms Jessica Eaton
54
4
75

1 Declares War
2 Eperdument

4

J: Ben Price (a3/50kg) T: Richard & Chantelle Jolly
9
61.0 (cd 58.0kg)
1.7
$19
01:24.740

Jockey

Trainer

Barrier

9

Weight

61.0

Starting price

-

Age

6YO

Colour

bay

Gender

Gelding

Status

Active

J WT

50.5kg

Ballot Seq

2

Prize

$350,725

Racing colours

Red, Green Yoke With White Vee, Quartered Cap

Owners

B Disotto, R Disotto, Mrs M J Disotto, Miss B Disotto, A Spagnuolo, Mrs L Spagnuolo, S B Charlton, Mrs A J Charlton, Miss M J Charlton, P Caruso, Mrs T Caruso, Miss V Caruso, N Pugliese, Mrs S M Pugliese, R Barbaro, Mrs A Barbaro & J Barbaro

Breeding info

DAM: Regalina
SIRE: Supreme Class

Career

25:8-1-3

1st up

5:1-0-0

2nd up

5:1-1-0

Track

6:3-0-0

Dist

2:0-0-1

Trk/Dst

1:0-0-0

Firm

0:0-0-0

Good

20:7-1-3

Soft

5:1-0-0

Heavy

0:0-0-0

Recent form

Video

Pos
Venue
Date
Dist
Cond
Race
Prize
Jockey
WT
Bar
RTG
Result
3rd / 12
MORP
21/09/2021
1000
Soft
OPN-TRL

-

Ben Price

-

-

-

11th / 15
MORP
15/05/2021
1600
Soft
R A LEE

-

Ms Caitlin Jones
56
14
89

1 Lord Vladivostok (NZ)
2 Dr Drill (GB)

10th / 11
MRPK
24/04/2021
1400
Good
CITY ADELAIDE
2325
Ms Caitlin Jones
57
9
91
11th / 15
M V
13/03/2021
1600
Soft
ALL-STAR MILE
50000
Luke Nolen
59
6
92

1 Mugatoo (IRE)
2 Russian Camelot (IRE)

5th / 8
MRPK
13/02/2021
1300
Good
BM86
2225
Jacob Opperman
60
1
92

5

J: Dylan Caboche T: Chris Bieg
6
54.0
2.2
$11
01:24.830

Jockey

Trainer

Barrier

6

Weight

54.0

Starting price

-

Age

5YO

Colour

bay

Gender

Mare

Status

Active

J WT

54.0kg

Ballot Seq

9

Prize

$174,010

Racing colours

Black, Orange Crossed Sashes And Armbands

Owners

Ms H Harvey, C Bieg, Miss S Sperenini, Miss J Hall, HAPC (Mgr: C Powell), Woodstock Racing (Mgr: A Larwood), Ms N Rantanen Reynolds, D Reynolds, Mrs J Swinton & S Swinton

Breeding info

DAM: Wool's in Fashion
SIRE: Declaration Of War

Career

26:6-2-2

1st up

5:2-0-0

2nd up

3:0-1-0

Track

10:2-2-1

Dist

6:0-1-0

Trk/Dst

3:0-1-0

Firm

0:0-0-0

Good

12:3-1-1

Soft

12:3-1-1

Heavy

2:0-0-0

Recent form

Video

Pos
Venue
Date
Dist
Cond
Race
Prize
Jockey
WT
Bar
RTG
Result
5th / 7
MRPK
25/09/2021
1250
Good
BM86
2325
Dylan Caboche
54
3
71

1 Extra Time
2 Noir de Rue

4th / 8
MORP
21/09/2021
1000
Soft
OPN-TRL

-

Dylan Caboche

-

-

-

1 Our Deep Agenda
2 Storm Voyager

6th / 8
GAWL
10/07/2021
1500
Soft
BM76
1275
Dom Tourneur
57
7
73

1 Flying Pierro
2 Icecrusher

4th / 15
MUBR
19/06/2021
1600
Soft
BM76
2725
Dom Tourneur
57
6
73

1 Scottish Dancer
2 Pearl Bandit

5th / 14
MRPK
05/06/2021
1550
Soft
BM76
2225
Jake Toeroek
57
5
74

1 Pearl Bandit
2 Robe Bay

6

J: Jason Holder T: Darryl Carrison
3
54.0
2.6
$41
01:24.890

Jockey

Trainer

Barrier

3

Weight

54.0

Starting price

-

Age

7YO

Colour

bay or brown

Gender

Mare

Status

Active

J WT

52.0kg

Ballot Seq

8

Prize

$205,612

Racing colours

Red, White Sash, Sleeves And Cap

Owners

Mrs K Carrison, T M Schlink, J Kenny, M C Kenny, A J Irvine, W T Irvine, G J Fitzgerald & Mrs M P Lally

Career

39:10-4-5

1st up

4:1-0-1

2nd up

4:2-0-1

Track

2:0-0-1

Dist

8:3-1-1

Trk/Dst

1:0-0-0

Firm

0:0-0-0

Good

34:9-4-5

Soft

5:1-0-0

Heavy

0:0-0-0

Recent form

Video

Pos
Venue
Date
Dist
Cond
Race
Prize
Jockey
WT
Bar
RTG
Result
7th / 10
MORP
21/09/2021
1000
Soft
OPN-TRL

-

Ryan Hurdle

-

-

-

1 All Banter
2 Sandsation

10th / 10
MORP
27/03/2021
2019
Soft
BM76
1225
Todd Pannell
58
4
75
1st / 12
PT L
14/03/2021
1960
Good
KIMB CUP
13955
Todd Pannell
57
2
74

2 Analytica (NZ)
3 Diamonds Are

9th / 12
PT L
05/03/2021
1960
Good
PT L CUP
1225
Mitchell Aitken
56
6
74

1 Dexter You Devil
2 Fearless Al

4th / 13
PT L
21/02/2021
1750
Good
HCP
2225
Paul Gatt
56
11
74

1 Paulo Pace
2 Lady Conquistador

7

J: Ms Caitlin Jones T: Mick Huxtable
4
59.5
3.0
$2.90F
01:24.940

Jockey

Trainer

Barrier

4

Weight

59.5

Starting price

-

Age

5YO

Colour

bay or brown

Gender

Gelding

Status

Active

J WT

56.5kg

Ballot Seq

3

Prize

$258,375

Racing colours

Canary, Black Yoke, Cuffs And Cap

Owners

Mrs J D Daly, M D Daly, R D Mooney, Mrs S M Mooney, A K Reeve, Mrs G Reeve, M S Kennedy, Mrs C A Kennedy, W A Blythman, Mrs R P Blythman, R J Eley, S J Schulz, Mrs S E Huxtable, A T Verco & C Addams-Williams

Breeding info

DAM: Family Portrait
SIRE: Fiorente

Career

22:8-4-3

1st up

6:1-1-2

2nd up

5:2-2-0

Track

6:3-2-0

Dist

3:0-2-0

Trk/Dst

3:0-2-0

Firm

0:0-0-0

Good

13:6-2-1

Soft

9:2-2-2

Heavy

0:0-0-0

Recent form

Video

Pos
Venue
Date
Dist
Cond
Race
Prize
Jockey
WT
Bar
RTG
Result
5th / 16
BKVA
15/09/2021
1600
Good
BKVA CUP
4425
Ms Jessica Eaton
55
11
86

1 Winning Partner
2 Second Slip (NZ)

2nd / 9
MRPK
28/08/2021
1400
Soft
MACDONALD STKS
19125
Ms Jessica Eaton
59
5
84

1 Second Slip (NZ)
3 Extreme Thrill

3rd / 6
MORP
14/08/2021
1200
Soft
SPRNG STKS
10225
Karl Zechner
59
4
84
2nd / 4
MRPK
09/08/2021
1000
Soft
OPEN-TRL

-

Ben Price

-

-

-

1 Enchantingly
3 Magna Bella

4th / 8
CAUL
03/04/2021
1600
Good
BM90
6250
Jye McNeil
57
5
84

8

J: Barend Vorster T: Stuart Padman
7
54.0
3.3
$15
01:25.000

Jockey

Trainer

Barrier

7

Weight

54.0

Starting price

-

Age

7YO

Colour

bay

Gender

Gelding

Status

Retired

Ballot Seq

10

Prize

$235,975

Racing colours

Red And Black Quarters, Gold Sleeves And Cap

Owners

Dr A W Mills, Ms B M Slowinska, D P West, W J Padman, D Trow, R Anictomatis, H P Nairn, Dr R Van Dissel & M E Pittman

Breeding info

DAM: Makmore
SIRE: Time Thief

Career

34:6-5-8

1st up

9:3-2-2

2nd up

7:1-0-2

Track

9:1-3-3

Dist

7:1-2-2

Trk/Dst

4:1-1-1

Firm

0:0-0-0

Good

20:3-3-5

Soft

13:3-2-2

Heavy

1:0-0-1

Recent form

Video

Pos
Venue
Date
Dist
Cond
Race
Prize
Jockey
WT
Bar
RTG
Result
6th / 13
MORP
11/09/2021
1200
Good
BM78
1275
Barend Vorster
58
4
73
3rd / 10
MUBR
07/08/2021
1400
Soft
BM86
4425
Karl Zechner
54
4
72

1 Left Hand Man
2 Mr Marathon Man (GB)

8th / 15
MUBR
19/06/2021
1600
Soft
BM76
1225
Ms Sophie Logan
57
1
73

1 Scottish Dancer
2 Pearl Bandit

9th / 14
MRPK
05/06/2021
1550
Soft
BM76
1225
Ms Sophie Logan
57
9
74

1 Pearl Bandit
2 Robe Bay

6th / 11
MUBR
22/05/2021
1200
Good
BM82
1225
Barend Vorster
57
7
75

1 Too Good Too Hard
2 Octane

9

J: Ms Emily Finnegan T: Nicole Irwin
2
59.0
3.8
$11
01:25.080

Jockey

Trainer

Barrier

2

Weight

59.0

Starting price

-

Age

5YO

Colour

brown

Gender

Gelding

Status

Active

J WT

54.0kg

Ballot Seq

4

Prize

$300,225

Racing colours

Silver, Purple Star, Sleeves And Cap

Owners

Mrs N J Irwin, Miss D P Stephenson, D J Irwin, Miss J L Bruggemann & S Collins

Career

23:8-1-2

1st up

4:0-1-0

2nd up

4:0-0-1

Track

0:0-0-0

Dist

3:0-0-1

Trk/Dst

0:0-0-0

Firm

0:0-0-0

Good

19:8-1-2

Soft

3:0-0-0

Heavy

1:0-0-0

Recent form

Video

Pos
Venue
Date
Dist
Cond
Race
Prize
Jockey
WT
Bar
RTG
Result
9th / 16
BKVA
15/09/2021
1600
Good
BKVA CUP
2325
Ms Jessie Philpot
55
1
86

1 Winning Partner
2 Second Slip (NZ)

1st / 12
DRWN
02/08/2021
2050
Good
DARWIN CUP
140800
Ms Jessie Philpot
56
1
82

2 Danon Roman (JPN)
3 Noir de Rue

1st / 10
DRWN
10/07/2021
1600
Good
HCP
39400
Ms Jessie Philpot
54
5
76

2 I Am the Fox
3 Reserve Street

1st / 12
DRWN
03/07/2021
1300
Good
HCP
17250
Ms Jessie Philpot
55
1
68

2 Spielberg
3 That's Justified

1st / 5
AD R
05/06/2021
1600
Good
HCP
17000
Ms Jessie Philpot
55
5
64

10

J: Paul Gatt T: Dean Saxon
8
58.5
3.8
$41
01:25.080

Jockey

Trainer

Barrier

8

Weight

58.5

Starting price

-

Age

7YO

Colour

black

Gender

Gelding

Status

Active

J WT

53.0kg

Ballot Seq

5

Prize

$512,328

Racing colours

Green, White Horseshoes And Cap

Owners

Mrs M C Saxon, M L Healy, P W Triffett, Ms B Dane, Ms J Eltringham, P Kerian, O Hennessy, W J Roennfeldt, Dr S B Heinze, S A McCorkell, R T Wells, G L Summerhayes & Ms L Carey

Breeding info

DAM: Marie Des Fleurs
SIRE: So You Think

Career

48:6-3-1

1st up

7:0-1-0

2nd up

5:1-0-0

Track

0:0-0-0

Dist

6:0-1-0

Trk/Dst

0:0-0-0

Firm

0:0-0-0

Good

12:0-0-0

Soft

23:2-2-1

Heavy

5:1-0-0

Recent form

Video

Pos
Venue
Date
Dist
Cond
Race
Prize
Jockey
WT
Bar
RTG
Result
11th / 16
BKVA
15/09/2021
1600
Good
BKVA CUP

-

Dom Tourneur
55
9
85

1 Winning Partner
2 Second Slip (NZ)

2nd / 10
MUBR
07/08/2021
1400
Soft
BM86
9675
Paul Gatt
60
10
84

1 Left Hand Man
3 Debt Collector

7th / 10
RHIL
26/06/2021
1800
Soft
BM88
3500
Lee Magorrian
59
9
86

1 Brutality
2 Mubariz (GB)

9th / 11
RHIL
19/06/2021
2000
Heavy
MCKELL CUP
3500
Ms Rachel King
54
11
88

1 Stockman (NZ)
2 Berdibek (FR)

4th / 13
RHIL
05/06/2021
1800
Soft
BM94
6500
Sam Clipperton
57
4
88

1 Mubariz (GB)
2 Mr Dependable (NZ)

-

J: Todd Pannell T: Will Clarken

-

57.0

-

-

-

Jockey

Trainer

-

Weight

57.0

Age

7YO

Colour

chestnut

Gender

Gelding

Status

Active

J WT

53.0kg

Ballot Seq

6

Prize

$185,525

Racing colours

Green, White Sleeves And Cap

Owners

L A Lamont, A J Virieux, Mrs M J Lamont, L C Virieux, S C Saltmarsh, Mrs V M Crawford & R L Saltmarsh

Breeding info

DAM: Butter Street
SIRE: Tough Speed

Career

28:7-6-6

1st up

9:3-1-3

2nd up

6:1-2-2

Track

0:0-0-0

Dist

5:2-2-0

Trk/Dst

0:0-0-0

Firm

0:0-0-0

Good

13:2-2-4

Soft

14:4-4-2

Heavy

0:0-0-0

Recent form

Video

Pos
Venue
Date
Dist
Cond
Race
Prize
Jockey
WT
Bar
RTG
Result
4th / 11
MORP
18/09/2021
1100
Good
WH WYLIE
5475
Todd Pannell
55
7
80

1 Free Of Debt
2 Kemalpasa

12th / 13
FLEM
07/08/2021
1100
Soft
BM84

-

Dean Holland
59
9
81

1 Miss Albania
2 Oxley Road

2nd / 10
MILD
23/07/2021
1400
Soft
MILDURA CUP
18000
Dean Holland
54
3
80

1 Sierra Sue (NZ)
3 More Than Exceed (NZ)

3rd / 10
MUBR
03/07/2021
1200
Soft
BM78
4425
Jacob Opperman
60
3
81
2nd / 13
MUBR
19/06/2021
1200
Soft
BM84
9225
Jake Toeroek
58
10
80

1 Too Good Too Hard
3 Extreme Thrill